Knowledge, Expertise, Service - The Customer Comes First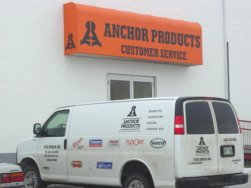 For 50 years, Winnipeg-based Anchor Construction/Industrial Products has been one of Western Canada's largest suppliers of construction, industrial and metal building fasteners, and a key distributor of power tools and their accessories.
We shop the world for the finest products to keep your buildings erect and your factory floors humming.
Working from our 25,000 square foot office/warehouse hub in Winnipeg, we offer additional sales and distribution branches in Thunder Bay, Regina, Saskatoon, Lethbridge, and Calgary. Our 35 experienced and knowledgeable field reps and in-house counter personnel service a massive geographical area of over 1,000,000 square miles. Personal service is a value-added commodity we attach to each and every product sold.
We understand our customers and strive to keep them working
We work to keep our customers in business. We understand that a contractor can't have men sitting around because a metal building manufacturer failed to ship the correct fasteners - and we'll do everything we can to get his crew up and running as quickly as possible.
One of our primary objectives is to source out the most reliable materials for the job.
What works for a contractor in Florida may be totally inadequate for a job in Northern Canada. We rely on top North American and European suppliers who place quality assurance high on their agenda and we try to find materials for our marketplace that increase efficiencies and decrease the installed cost to the contractor or manufacturer - through greater reliability.
We also attend trade shows regularly to find innovative new products and concepts that keep us on the cutting edge.
Long, established relationships with leading manufacturers
Our relationships with our top-line manufacturers go back to the very beginning of our company, and as a result, our people, most of whom are long-term career employees, are extremely knowledgeable about the products.
Product quality extends to our accessories as well. We are the largest distributor of masonry carbide drills and power hammer parts in the region. Our line of Bosch carbides are among the finest products of their kind, with specifications that surpass the vast majority of the competition.
The customer comes first
If we don't have it, we can get it. One of our trademarks is extra effort, and over the years this has paid off to the point where we now have tremendous rapport with our customers. The bottom line is always service, so phone calls never go unanswered no matter how big a problem or how small an order. We live up to our commitments.
We offer both counter staff and field representatives in all six of our locations and our staff wears a variety of hats. A typical day for any of our staff members might include visiting as many as 10 job sites, making recommendations and ensuring product integrity through testing and on-site demos. It is not uncommon for one of our staff to drive all day on a Sunday to get to a job site by Monday morning to hand-deliver a much-needed piece of equipment.
Whether it be the shop floor or a job site, if the customer knows what they want we can deliver exactly what they need. If the customer is unsure of their needs, we have the expertise to help them and report on what is available. Also, satisfaction must extend to the owner or end user and not just to the contractor or manufacturer.
In the end, a call to Anchor can save you both time and money.